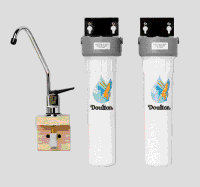 HIP210- Double Housing Under Counter Doulton Water Filter
Quality Doulton Drinking Water Filters for City or Rural Use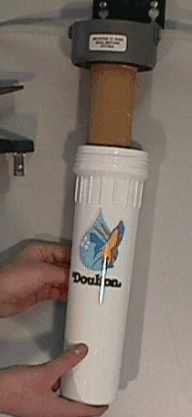 This is a complete system designed for Do It Yourself (DIY) undercounter installation.
This system includes: Two (2) HIP100 Housing assemblies; MKU100 Mounting Kit, a cleanable CU1200 UltraCarb Ceramic for the first housing and a disposable CM1500 High Volume Organic (VOC) Reduction cartridge for the second housing (see performance chart below). This system's performance may also be expanded at any time by simply "plugging" in additional housings (see At-a-Glance Performance Chart).
This system is packaged "ready for installation" with all hardware required for most applications. The system is plumbed directly into the cold water supply line either under the kitchen sink or utility room by way of a SV2002 saddle valve. The filtered water is fed to a dedicated F-FM02 long neck drinking water faucet mounted on your kitchen sink. All fittings are John Guest "Push Fit" for ease of installation and service.

To clean, service or replace either the CU1200 ceramic or CM1500 disposable cartridge, the "sump" (white section) is simply unscrewed. The sump is pressure sealed with an "O" ring, therefore no tools are required to loosen or tighten the sump into place. Hand pressure is sufficient. Flow rate is .5GPM@30PSI. For detailed installation and service instructions please refer to the Installation and Users Guide
HIP210 - Application Guide and Contaminant Removal Chart
CU1200 UltraCarb Ceramic & CM1500 VOC Combination
P= Purification. R= Reduction> 95%. F= Effective Filtration
Contaminants
Removal
Rated life CU1200/CM1500 - 1000 Imperial Gallons
Bacteria
P
General Description -

Application: This system is designed as the quality standard for homes fed by well, surface or Chlorinated Municipal water and constructed with a PVC plumbing supply. This system is very effective for homes which are fed by lead lined or asbestos concrete reinforced water supply mains in their city.

This cartridge combination provides: 100% rejection of Bacteria and Cysts; Depth filtration of particulate >.2 micron (dirt, asbestos, iron etc); Outstanding long life VOC/Chemical rejection plus increased improvement in Taste and Odor and Lead reduction.

Strengths:This system produces outstanding rejection of VOC's and Lead. The system is easily cleaned and requires no tools to service.

Cysts
P
Taste
R
Odors
R
Colour
R
Chlorine
P
Herbicides
R
Pesticides
R
Lead
P
Metals
F
Fluoride
NA
Nitrates
NA
Arsenic
NA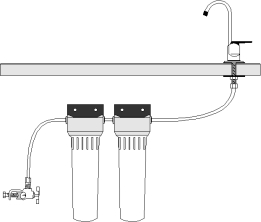 | | | | |
| --- | --- | --- | --- |
| Dimensions | Height | Width | Depth |
| Imperial | 14 in | 8.5 in | 4 in |
| Metric | 35.6 cm | 21.6 cm | 10.2 |
To learn more about Drinking Water Filtration take some time to explore our vast website
via the links at the bottom of this page.
To view the complete line of Doulton drinking water filter systems, see our on-line Product Catalogue.
// Overview // Index // Health // History // Technologies // FAQ // Employment // Training //
// Product Catalog// Travel // Research // Test Results // Orders / Prices // What's New // Contact Us //
Copyright © 1997 H2O International Inc. All rights reserved.