HIP100 - Housing, In-line Plastic. The HIP is an in-line pressure water filter housing moulded from Acetal and Polyester materials. Each housing comes complete with its own mounting bracket and screws. The inlet and outlet are John Guest "push-fit" connections which do not require tools for the installation or removal of the 3/8 hose.
Any Doulton or H2O International Inc, 10", threaded, short mount (3/4")drinking water filter cartridges may be used with this drinking water filter cartridge housing. The housing is designed for cold water only with a flow rate of .5GPM@30PSI. Multiple housings may be plumbed together "in-line" or "in-parallel" for increased contaminant removal, increased flow rate, or both. For more information about parallel systems (commercial) please call our: North American Technical Support Line: 1-800-439-1671
To service or replace the internal cartridge the "sump" (white section) is unscrewed counter-clockwise. The sump is pressure sealed with an "O" ring, therefore no tools are required to loosen or tighten the sump into place. Hand pressure is sufficient.
Please refer to the Installation Guide Instructions for more details regarding installation and service.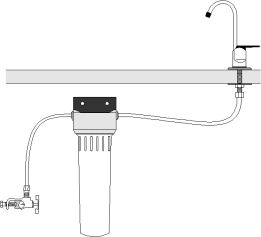 | | | | |
| --- | --- | --- | --- |
| Dimensions | Height | Width | Depth |
| Imperial | 14 in | 4 in | 4 in |
| Metric | 35.6 cm | 10.2 cm | 10.2 |

For more information on health hazards such as chlorine and other drinking water contaminants please read through our "Health Topics" pages or review many of the information sites listed on our research page.
// Overview // Index // Health // History // Technologies // FAQ // Employment // Training //
// Product Catalogue// Travel // Research // Test Results // Orders / Prices // What's New // Contact Us //
Copyright © 1997 H2O International Inc. All rights reserved.