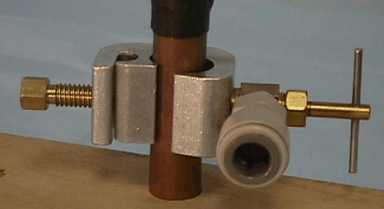 SV2002 Self Piercing Saddle Valve - for copper or PVC supply lines. Comes complete with a multi-size backing plate and 3/8 inch John Guest hose adapter. Copper and steel design. Flow rate of approx .6 GPM @30 PSI
This saddle valve may also be ordered to fit 1/4in compression hose fittings for any other brand of water treatment system. Simple specify in the comment block if using the on-line shopping catalog.
// Overview // Index // Health // History // Technologies // FAQ // Employment // Training //
// Product Catalog// Travel // Research // Test Results // Orders / Prices // What's New // Contact Us //
Copyright © 1997 H2O International Inc. All rights reserved.