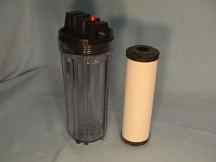 ST10PR - Standard #10 Water Filter Cartridge Housing
ST10PR is a multi purpose water filter cartridge housing. Each housing has a pressure relief valve built into the head assembly. These housings will accept many different water filter cartridges from a host of manufactures. Our Imperial IMP100 or IMP300 Ceramic Doulton Water Filter cartridges are a perfect fit.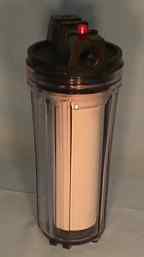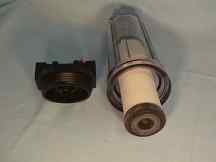 The clear housing allows for monitoring of the cleanliness of the Doulton ceramic or other cartridge. The Ceramic water filter cartridge is easily removed for cleaning and replacement by simply turning off the water supply, releasing the water pressure and unscrewing the clear filter sump from the black head assembly. No tools are required.
Note: The ceramic water filter cartridge is not included with the housing. It must be ordered separately.
To learn more about Drinking Water Filtration take some time to explore our vast website via the links at the bottom of this page.
To view the complete line of Doulton drinking water filter systems, see our on-line Product Catalog.
// Overview // Index // Health // History // Technologies // FAQ // Employment // Training //
// Product Catalog// Travel // Research // Test Results // Orders / Prices // What's New // Contact Us //
Copyright © 1997 H2O International Inc. All rights reserved.