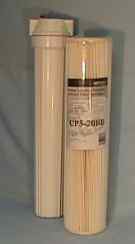 PF2005 - 20 inch 5 Micron pre-filter for Point of Entry (POE) Whole House large volume water filtration
This is a pleated membrane style pre-filter which fits Big White (or equivalent) 20 inch housings. This is the standard pre-filter for the Sovereign series (SOV120 / SOV320) of whole house ceramic Doulton Water Filters. The use of this pre-filter dramatically reduces the cleaning frequency and increases the life of the Doulton ceramic sub-micron water filters.
.
To learn more about Drinking Water Filtration take some time to explore our vast website via the links at the bottom of this page.
To view the complete line of Doulton drinking water filter systems, see our on-line Product Catalog.
// Overview // Index // Health // History // Technologies // FAQ // Employment // Training //
// Product Catalog// Travel // Research // Test Results // Orders / Prices // What's New // Contact Us //
Copyright © 1997 H2O International Inc. All rights reserved.