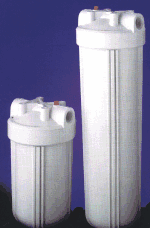 BWH-20 "Big White TM" 20 inch Whole House Point of Entry (POE) Water Filter Housing
These large capacity whole house point of entry (POE) "Big White TM" Series Water Filter Housings are manufactured with only FDA compliant, reinforced Polypropylenes. With a unique "Square Cut Gasket" seal, testing has been satisfactorily completed in accordance to Water Quality Association's Voluntary Standards S-300 Appendix D, under sections 3.1, 3.2, and 3.3.
Big White TM Series Water Filter Housings are available with 1/2", 3/4", 1", and 1-1/2" NPT inlet / outlet threads. 1" BSP (metric) is also available. Please specify in the comment block when ordering on-line.
All caps (top section) are standard stock items with a pressure relief button.
BWH-10 Shown on Left, BWH-20 Shown on Right
Specifications

External Dimensions
7-1/4W x 24-1/8H
Internal Dimensions
4-1/2W x 20H
Max Operating Pressure
125 PSI
Max Temperature
125 F
Color
White (shown) or
Clear Housing with Blue Cap
State color when ordering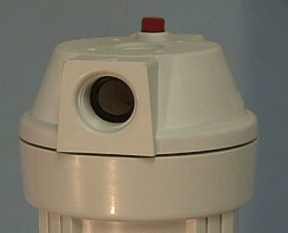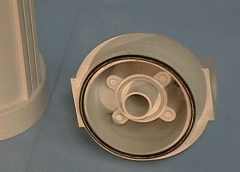 To learn more about Drinking Water Filtration take some time to explore our vast website via the links at the bottom of this page.
To view the complete line of Doulton drinking water filter systems, see our on-line Product Catalog.
// Overview // Index // Health // History // Technologies // FAQ // Employment // Training //
// Product Catalog// Travel // Research // Test Results // Orders / Prices // What's New // Contact Us //
Copyright © 1997 H2O International Inc. All rights reserved.