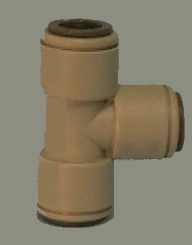 JGT38T - John Guest T Fitting - "Push Fit" Connector for 3/8 Hose
This is a three way 3/8 inch John Guest fitting for connecting three drinking water filter hoses or plastic tubing together.
John Guest fittings require no tools to service. The hose or plastic tubing is simply pushed into the John Guest fitting and then a slight firm "tug" is used to seat the hose into the internal seal. To remove the hose, the collar of the fitting is held pushed in and the hose is gently slid out.

Technical Specifications:
JGT38T - 3 X 3/8H - This is a "T" fitting for 3/8in hose tubing.
Note: These fitting are also available for 1/4inch hose. Call for prices and availability.
// Overview // Index // Health // History // Technologies // FAQ // Employment // Training //
// Product Catalog// Travel // Research // Test Results // Orders / Prices // What's New // Contact Us //
Copyright © 1997 H2O International Inc. All rights reserved.