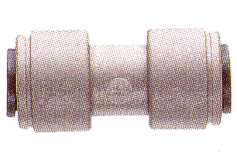 JGREUN - John Guest Reduction Union - Push Fit Connector for 3/8 to 1/4 inch hose conversion
This John Guest fitting is used to convert from 3/8 inch hose to 1/4 inch hose. This fitting allows Doulton water filter and Doulton water treatment systems using 3/8in. hose to be connected into existing 1/4in. cold water saddle valves and feed automated water dispensers and ice cube makers in refrigerators that use 1/4 inch hose.
John Guest fittings require no tools to service. The hose tubing is simply pushed into the fitting and then a slight firm "tug" is used to seat the hose into the internal seal. To remove the hose, the collar of the fitting is held pushed in and the hose is gently slid out.
Technical Specifications:
Max. 150 psi @ 75 F - Max. 10 Bar at 20 C
Max. 60 psi @ 140 F - Max. 4 Bar at 60 C
Min. 33 F - 1 C
// Overview // Index // Health // History // Technologies // FAQ // Employment // Training //
// Product Catalog// Travel // Research // Test Results // Orders / Prices // What's New // Contact Us //
Copyright © 1997 H2O International Inc. All rights reserved.