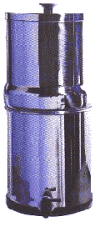 GSS404- Gravity Stainless Steel Doulton Water Filter
The Doulton GSS housing is manufactured from polished stainless steel. It comes with four CS0700 Doulton ceramic water filter candles. The upper chamber is filled with water which then gravity feeds through the Doulton ceramic water filter candles into the lower chamber. An easy to use spring loaded spigot is used as the outflow tap.
CS0700 2 stage "Super Sterasyl"Doulton water filter candles are the recommended cartridges for gravity systems. (note: CU1200 UltraCarb candles are designed for pressure fed systems. They will work in gravity fed systems but the flow rate is reduced).
This unit is simple to assemble and requires no specialty tools (screwdriver only). The outflow spigot and upper chamber lid knob are the only items to be installed by the purchaser. Assembly time is approximately 5 minutes. Detailed instructions are provided.
This is also an outstanding portable drinking water filtration system which is perfect for travelers, boaters, recreational vehicle owners or as an EMERGENCY WATER PURIFIER. It may be stored un-used in homes, businesses, automobiles, etc. indefinitely. It is always ready for use!
Doulton Application Guide and Contaminant Removal Chart
CS0700 Super Sterasyl Ceramic Doulton Water Filter Candle
P= Purification. R= Reduction> 95%. F= Effective Filtration
Contaminants
Removal
General Description -Rated life 1000 Imperial Gallons per candle (max four)
Bacteria
P
Application: Gravity fed, this Doulton water filtration system is designed for use where either portability is required or access to a pressure fed water source is impractical.

Volume: With four Doulton ceramic water filter candles installed, this unit can produce more than twenty US gallons (80 litres) of drinking water per day.

Strengths: This "Free Standing" portable gravity fed system provides 100% rejection of bacteria, cysts and effective depth filtration of particulates >.5 micron. This system also provides excellent rejection of Chlorine and VOC's. The multiple candles are easily cleaned and require no tools to service.

These statistics meet or exceed the NSF certification requirements under NSF International Standard 42 and 53.

Cysts
P
Taste
F
Odors
F
Colour
F
Chlorine
R
Herbicides
F
Pesticides
F
Lead
NA
Metals
NA
Fluoride
NA
Nitrates
NA
Arsenic
NA
Doulton Technical Details

Telescoped for Shipping

CS0700 Doulton Ceramic Candles
2
4
Capacity (litres)
9
9
Output / 24 hours (litres)
40
80
Height (mm)
490
Width (mm)
210
Empty Weight (kg / lbs)
2.5 / 5.5
// Title // Overview // Index // Health // History // Technologies // FAQ // Employment // Training //
// Product Catalogue// Travel // Research // Test Results // Orders / Prices // What's New // Contact Us //