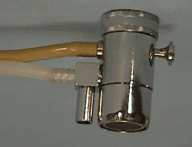 DYN003 1/4 Inch Duplex Hose Water Filter Diverter Valve
This diverter valve directs the cold water from the supply line faucet to Counter Top Stainless Steel Doulton / Dynamic water filters and Doulton / Dynamic water treatment systems via the solid coloured side of the duplex hose. After the water is processed by the Dynamic water filter it is then fed back to a dedicated drinking water spigot on the side of the diverter valve by way of the clear side of the duplex hose.
Portable dishwasher attachments are not interfered with (dishwasher adapter is installed below the diverter valve) and many different adapters are available to ensure compatibility with any faucet or garden tap design.
To learn more about Drinking Water Filtration take some time to explore our vast website via the links at the bottom of this page.
To view the complete line of Doulton drinking water filter systems, see our on-line Product Catalogue.
// Overview // Index // Health // History // Technologies // FAQ // Employment // Training //
// Product Catalogue// Travel // Research // Test Results // Orders / Prices // What's New // Contact Us //
Copyright © 1997 H2O International Inc. All rights reserved.