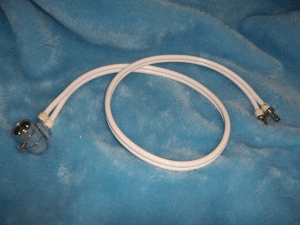 DDV303 Pull Re-Set Water Filter Diverter Valve.- This diverter valve directs the cold water from the supply line faucet to Doulton Stainless Steel counter top water filters. Portable dishwasher attachments are not interfered with (dishwasher adapter is installed below the diverter valve) and many different adapters are available to ensure compatibility with any faucet or garden tap design.
This valve comes with approximately three feet (1 meter) of 1/4 inch white hose.
// Overview // Index // Health // History // Technologies // FAQ // Employment // Training //
// Product Catalogue// Travel // Research // Test Results // Orders / Prices // What's New // Contact Us //
Copyright © 1997 H2O International Inc. All rights reserved.